Easy, filling and family friendly plant based dinner ideas that are perfect for cozy fall evenings.
It's officially FALL and I'm bringing alllll the cozy vibes into my home and my kitchen!
I don't know – this year more than ever I feel like we're embracing the coziness factor. We're slowing down a little (homeschool really helps with this), truly appreciating the beauty of this season…and part of that is embracing all the fall foods!
This week's meal plan is brought to you by meal planning on a cool cloudy fall day – I hope these meals can bring some warmth to your home as well!
An oil free note:
One thing I really love about these soups and stews is that they're incredibly easy to make without oil. Most of them start with the instruction to start by sautéing onions and garlic in oil, but that is VERY easily substituted with vegetable broth instead. I promise you won't taste the difference!
Plant based soups and stews:
Crock pot butternut squash soup:
My mother in law made this recipe for us a few weeks ago and while 2 of the kids weren't VERY big fans, the rest of us loved it! I'm hoping that with some more exposure they'll end up loving the recipe too. It was perfect topped off with some pumpkin seeds!
Black bean tortilla soup
I have a kid who doesn't love black beans, but other than that, I think this dinner will be a hit! We're using mild salsa to keep the spiciness down (my kids do NOT love spicy!). I'll also serve it with a good sized portion of avocado and blue corn tortilla chips on the side!
Rustic vegan cheeseburger stew
We've made this recipe many times now, and it's been a big hit every time! It's a healthy hearty stew that's perfect for those cooler fall days. We'll be pairing it with some homemade sourdough bread this week – I can't wait!
Vegan Lasagna Soup
This is a family favorite! We found this recipe last winter and loved it. It's simple to make and realllly delicious. Lately I've been adding Banza chick pea noodles to this dinner instead of white lasagna noodles. The kids love this meal and we do too!
Other plant based dinners on the menu this week:
This recipe is one that every single one of us loves and no one complains about when they see it's on the menu! It's also easy and low-cost…so basically a win all around! It's been on our menu on repeat the last few months and we're still loving it!
(Vegan) loaded baked potatoes
Easy weeknight dinner of baked potatoes are the last thing on our menu for the week. I usually make a cashew cheese sauce for topping, as well as plenty of broccoli. We might even make coconut bacon to go on top this time too.
Which cozy plant based dinner recipe would you try?
I hope that these meals give you some good ideas on how to add more plants to your dinners this week. Remember: even if you're not vegan or plant based, there are MANY health benefits of adding just 1-2 plant based dinners into your weekly rotation!
These are all delicious, filling and tested recipes for these cozy fall evenings.
If you make them, make sure you tag me on Instagram and let me know you found the recipe here!
And if you want to save this post for later (or share with others) please pin the image below. While you're at it, make sure you're following me on Pinterest!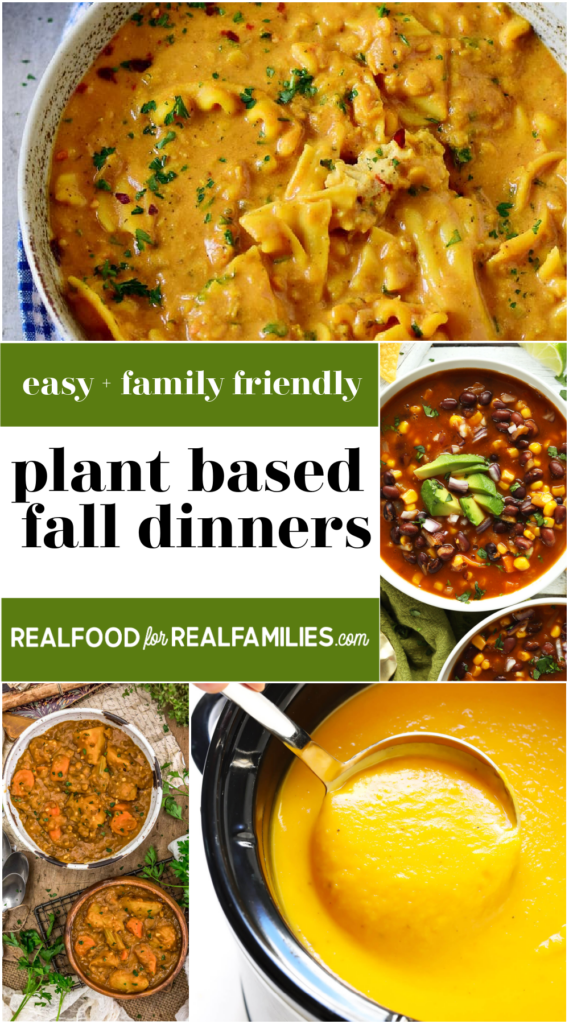 And if you'd like some more weeknight plant based dinner ideas, click any of these posts below for other weekly meal plans!