Healthy, hearty vegan pumpkin pancakes that are perfect for chilly fall mornings. Make these in bulk to eat all week!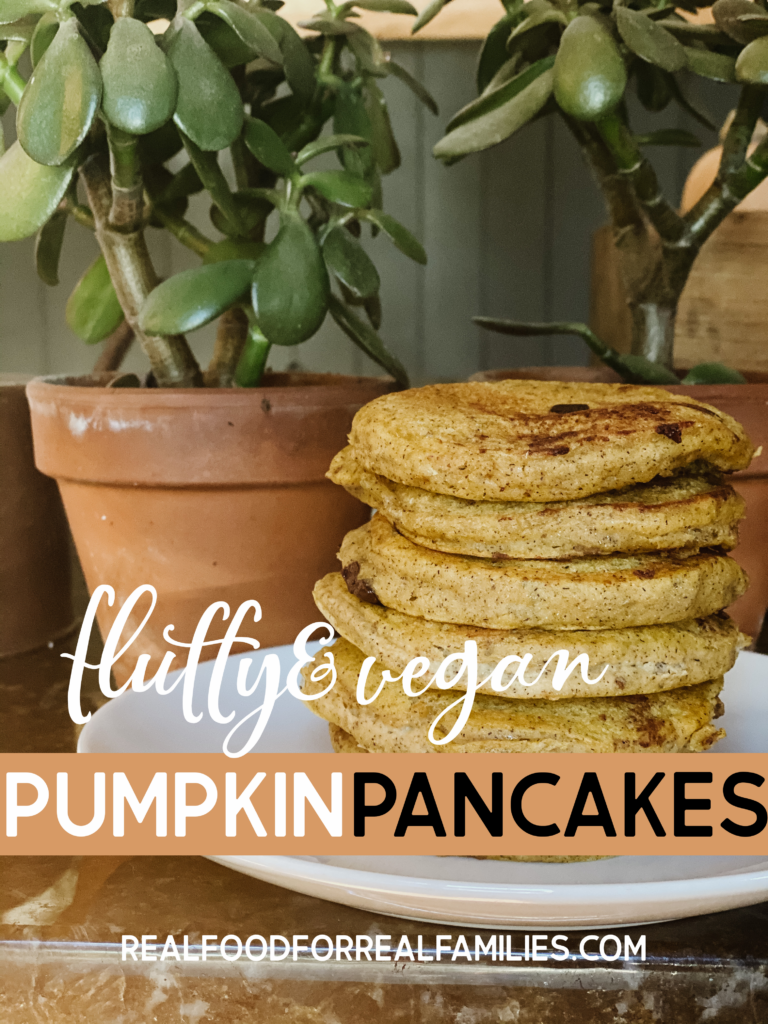 I've been meaning to write this recipe out for…months now? I make these pancakes in some way shape or form every weekend.
The key to making this pancake recipe work for you during your busy weekday mornings? We TRIPLE the batter to make a massive batch, and then I refrigerate and freeze the leftovers so we can reheat on weekday mornings.
How do you cook the pumpkin pancakes?
I personally love our electric griddle because I can cook 8 pancakes at a time on it, but it's also ceramic coated so I don't have to worry about the toxic Teflon coating.
Sadly, the exact one I own isn't sold anymore. But I did find some really comparable options that seem really similar to the one we own (and they're all ceramic coated). As always, make sure you check out the reviews first to make sure it's what you want. But these seemed to be highly rated!
(click each image to shop these items. If you purchase, I make a small commission from your purchase at no extra cost to you)
How do you store and reheat your pumpkin pancakes?
I put some of them directly into a glass container and into the refrigerator. We usually do 2-3 days worth in there, and if I try to do more they usually get mushier than I'd like.
As for the other ones, I lay them out on a parchment paper lined baking sheet and put them in the freezer. Once they're frozen, I put them in a freezer safe container.
(if you don't freeze them first on the parchment paper, then they stick together once they're frozen and they become really hard to separate later).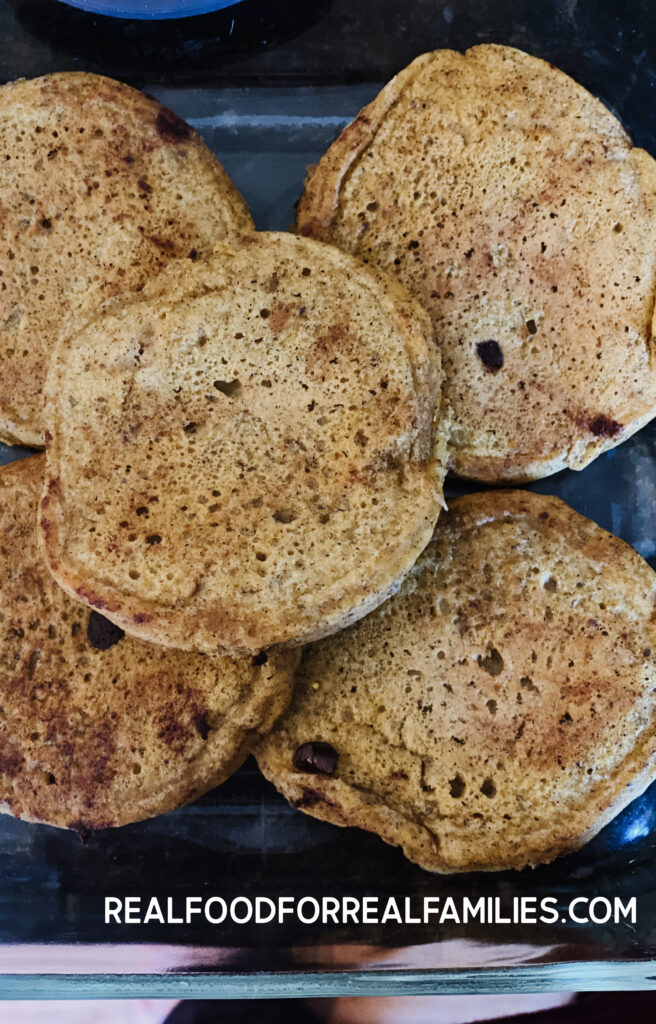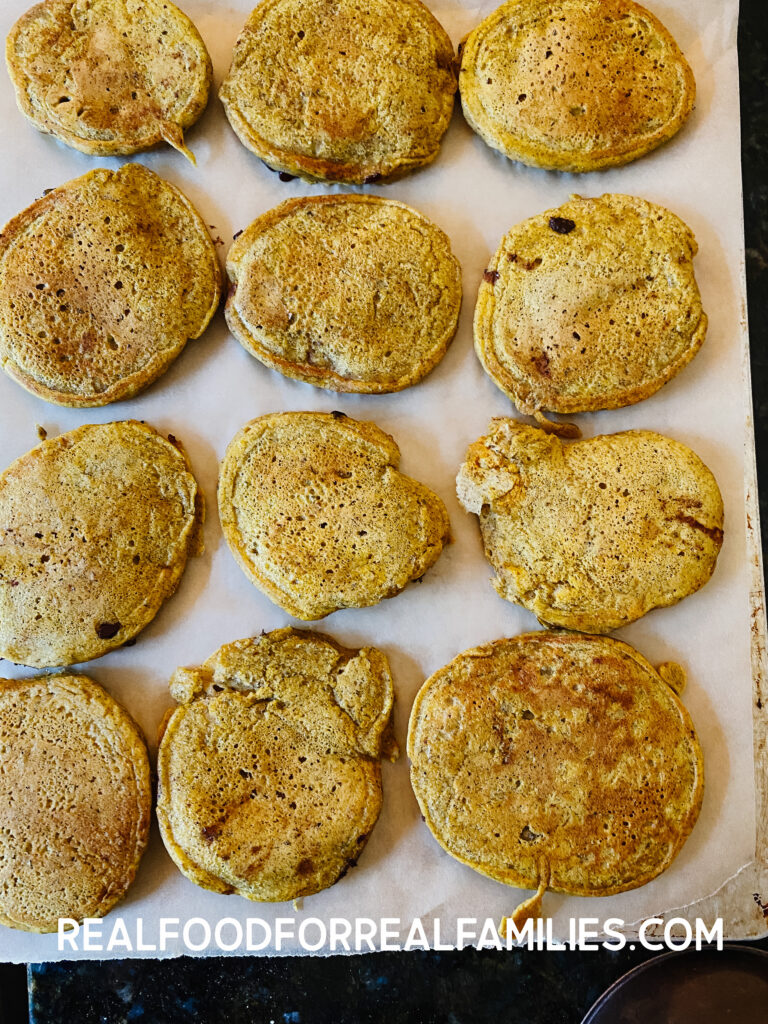 To reheat:
If coming from the fridge: put directly into the toaster oven until heated through. We usually do 350° or 400° for 5-10 minutes until heated through.
If they're coming from the freezer: let them thaw on the counter first (or defrost in the microwave). Then follow the heating instructions above.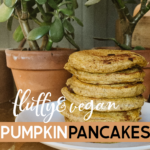 Fluffy vegan pumpkin pancakes
Fluffy vegan pumpkin pancakes that are hearty and relatively healthy!
Ingredients
1

cup

milk (+ a little bit more as needed for consistency)

(any milk will do! We love oat milk)

1

TBSP

apple cider vinegar

1

tsp

vanilla

1

cup

flour

(see notes)

1.5

TBSP

sugar

1

TBSP

baking powder

2/3

cup

pumpkin puree

(not pumpkin pie filling)

1

TBSP

chia seeds

1

TBSP

ground flax seeds

cinnamon + pumpkin spice

(to taste)

chocolate chips

(optional)
Instructions
Mix together the wet ingredients (milk, apple cider vinegar and vanilla). Set aside.

Combine the flour, sugar and baking powder in a large bowl.

Add the wet and the dry ingredients together.

Gently fold in the pumpkin puree, chia seeds, and ground flax seeds. Add more milk to make the consistency you'd like (I usually add maybe 1/3 cup more at this stage)

Season to taste with cinnamon and pumpkin spice.

Heat up a griddle, grease with a small amount of coconut oil, and scoop out pancake batter (we like using 1/3 cup batter for each pancake)

Add mini chocolate chips or leave them out – both are delicious!

Flip the pancakes once they're lightly browned on the bottom, and cook until heated through.

Top with maple syrup and enjoy!
Recipe Notes
We TRIPLE this recipe when I make it every week. Then I refrigerate some and freeze some more, and heat up in our toaster oven through the week.
**FLOUR: I like to use a mix of different flours when I make this recipe. I always use at least half of the flour requirements using all purpose flour, but then get creative with the other half of the flour mixture. We use buckwheat most often, but also sometimes mix in cassava flour, whole wheat flour, or 1:1 gluten free flour. 
**If you'd like a little more natural sweetness, add in a smashed ripe banana! I didn't have any on hand when I made it this morning, but we do this often.
**See the rest of the blog post about griddles I recommend and ways to make this recipe last throughout the week.
I hope you love this recipe!
If you make it, share it on Instagram and make sure you tag me! I love seeing you making these recipes in your kitchens for your families!
And if you want to save this recipe for later and share it with others, please pin any of these images and share on Pinterest!