Today we're going to discuss the topic of expenses: is it more expensive to eat a plant based diet? The answer may surprise you!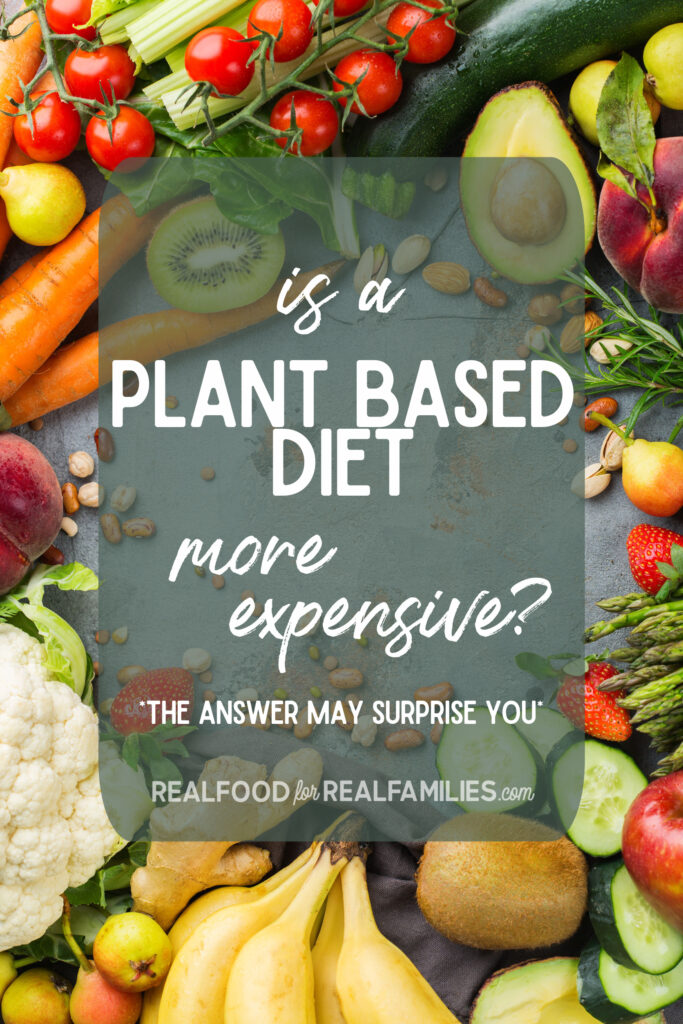 Are you worried that going plant-based will leave you struggling to stay within your budget? 
That's not the case at all!
In fact, a recent study found out that going plant-based can save up to $23 on your weekly grocery list. Let this sink in for a moment.
So, let's bust this myth of it being expensive to go plant-based.
The Cost of Plant-Based Diet vs. Traditional Diet
The average cost of your meals will depend on:
the specific meals you prepare
the ingredients it requires
and the food brand or types that you choose
Adding plant-based meals into your cooking rotation will not only help you discover low-cost ingredients but also flexible meal planning and overall lower food costs. 
Leaving out meat, eggs, or dairy in most meals can turn out to boost your savings considerably!
You don't have to do it all at once
Eating or cooking without meat, dairy, or eggs can be very tricky at first if you are new to this. Especially if you rely on these for key nutrition in your diet.
But cutting down expenses doesn't mean you should be cutting down on nutrition.
The good news is that being plant-based is more of a lifestyle than a crash diet. You can start to ease into plant based eating slowly, and learn what meals you like over time.
Learn how to cook or consume fewer meat products at first and opt for plant-based ingredients that match your nutritional needs according to your taste and budget. Try for just 1-2 plant based meals a week, making sure to focus on simple ingredients with lots of spices and a variety of fresh produce (I have some of my favorites linked at the end of this blog post).
Money saving tip: Plan out your meals
I know that meal planning can seem complicated or like a big commitment, but if I don't plan out my family's meals ahead of time, I spend way more money when trying to grab things at the last minute.
I already have a LOT of weekly meal plans you can use for your own family! They're simple, healthy, plant based meals that we love.
You can find all these weekly meal plan roundups (it's all 100% free) on this section of my website.
Rethink it ALL to save money AND redeem your health
Packaged plant-based foods from certain brands can be very expensive.
Honestly? What I've found is that it IS expensive to eat a plant based diet if you're just replacing what you were eating previously with plant based alternatives.
For example:
If you're replacing pizza with a vegan pizza crust, plant based shredded cheese, and then meat alternative crumbles on top, then yes, it will be much more expensive to eat plant based. And there's a good chance you're *probably* not going to see the health results you're hoping for.
BUT when you focus on filling up your body with fiber filled, whole foods that will nourish your body, then you'll likely save money on your food, and you will also reap the health benefits.
In conclusion: it does NOT have to be more expensive to eat a plant based diet
Of course, it CAN be if you're not following these simple tips.
Start slow – find your favorite meals as you go
Plan out your meals
Rethink your meals instead of trying to find pre-packaged plant based alternatives
I hope that helps encourage you as you work to incorporate this way of eating into your daily life!

Please follow me on Instagram to see some easy plant based meals and snacks that I make as a busy mom of 3 little kids who love to eat!