This weeknight dinner is easily customizable for everyone in the family! This burrito bowl recipe shows how to get kids involved and excited about eating.
I'm always looking for easy weeknight dinners that everyone in our family enjoys. With two little kids, breastfeeding needs to take into consideration for our two month old, and a limited amount of time to make dinner…it's not easy! BUT these build your own burrito bowls have become a go-to recipe for us every single week for the last few months.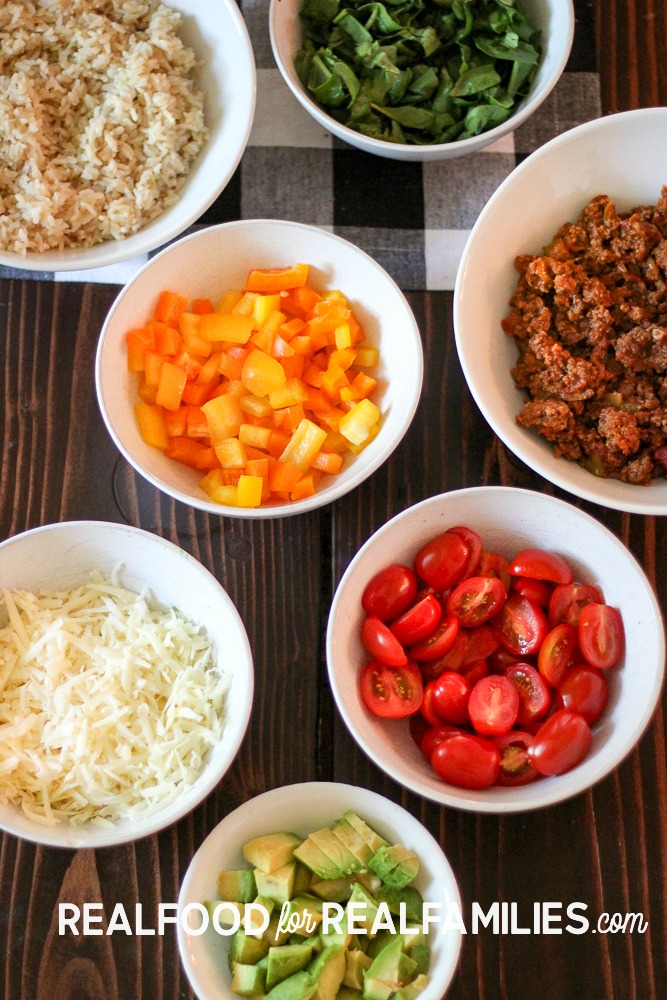 Easy build your own burrito bowls:
The best thing about these burrito bowls is that my kids love them. One of the reasons they love them is that I let them be involved in the process of building their own bowl. They get SUCH a kick out of putting their dinner together, and since I'm giving them a choice of healthy options to put in their bowl, I can let them choose what they like without having to intervene. Win-win!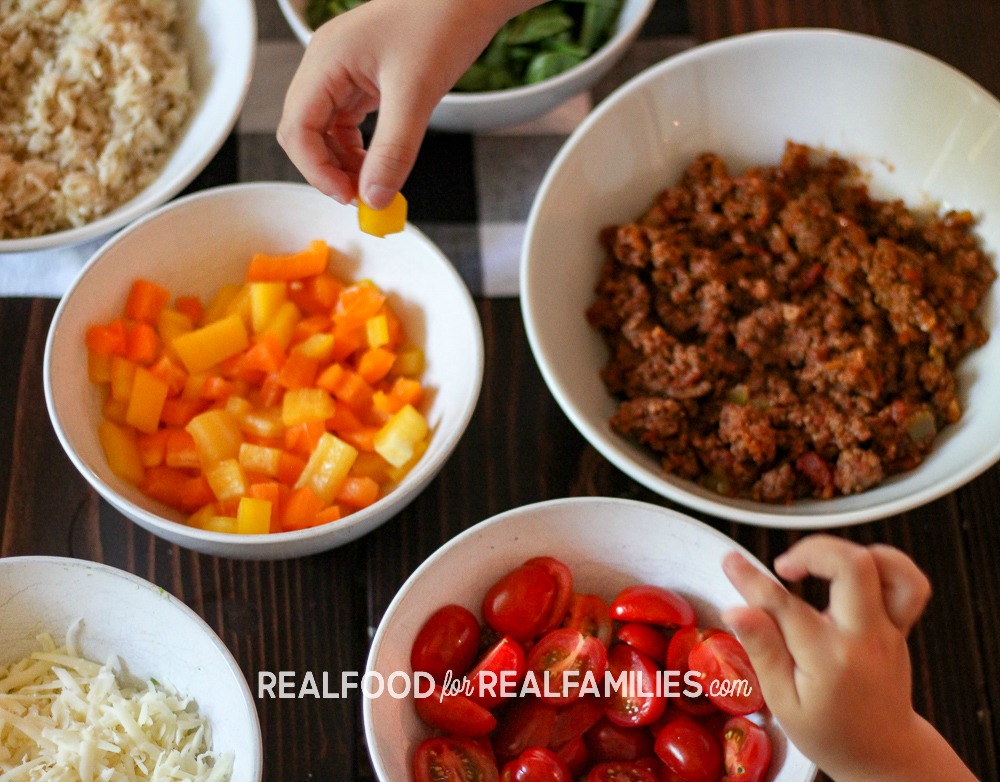 Here's what we use to build our burrito bowls:
Brown rice (this will be the base of your bowl)
Taco meat

EASIEST way to make this:

brown one pound of beef, drain the fat, and then add in one jar of salsa.
If you like it to be a little thinner, add a little bit of water to make it the consistency you'd like.

Lettuce
Bell peppers
Tomatoes
Cheddar cheese
Avocado
Sour Cream
Cilantro
The beauty of this recipe is that the possibilities are endless! You can customize this to what you and your family love.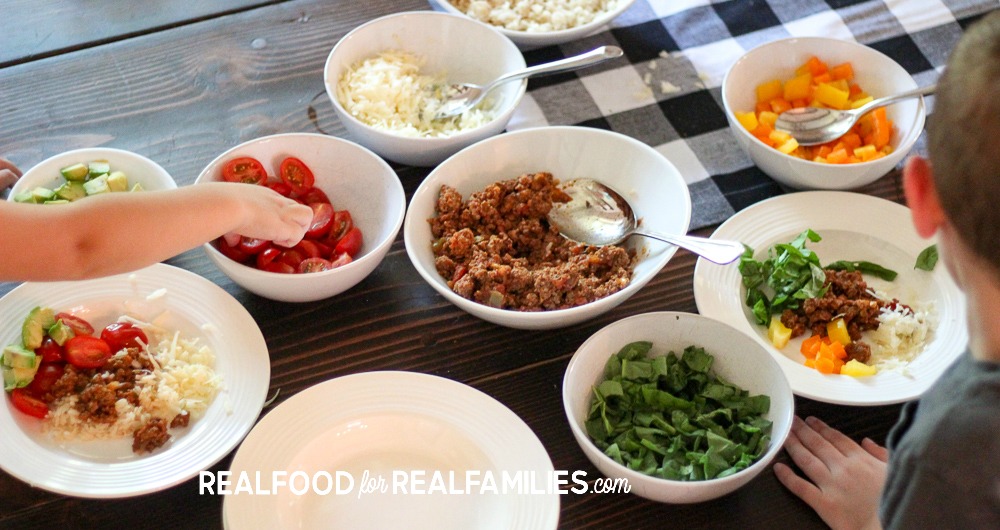 My kids eat way more vegetables when we serve dinner this way – which is why it's one of my tips for getting kids to eat more vegetables in my ebook. When kids feel involved in the food creation, they are much more likely to eat their meal (without complaining!) If you haven't read my ebook yet – it's FREE for my e-mail subscribers! You can sign up here to get recipes straight to your inbox every week, as well as great ideas for getting your family to be healthier: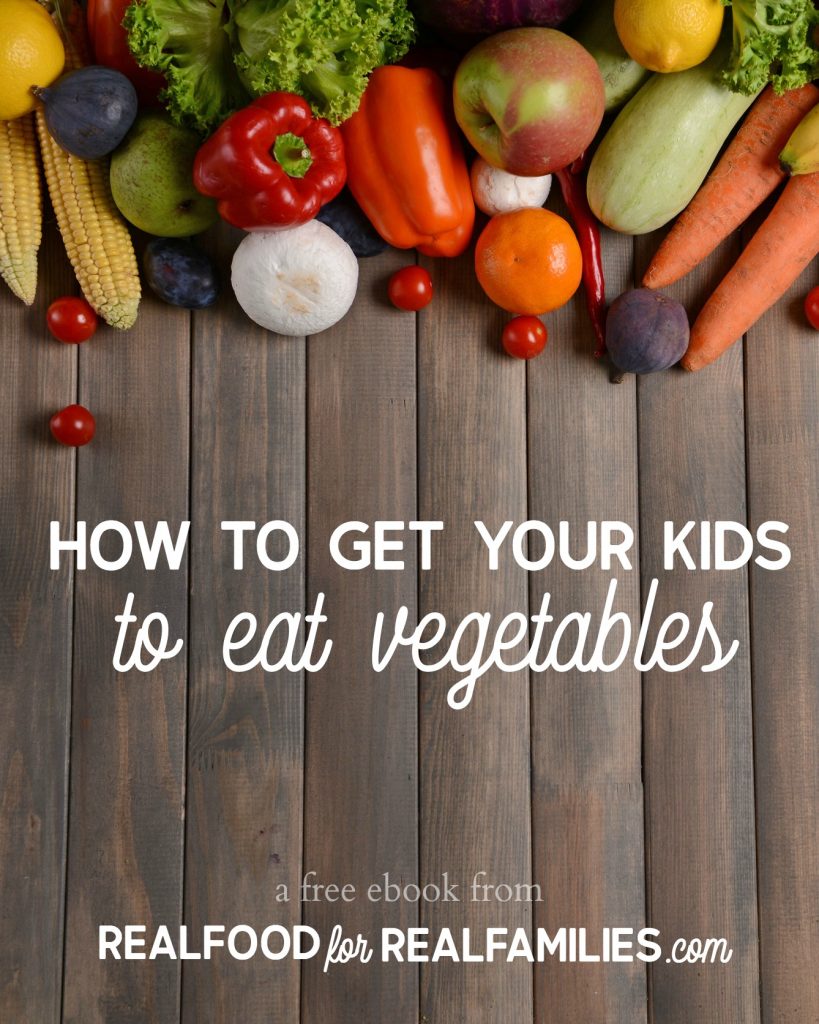 Looking for more easy dinner ideas? Here's our family family friendly keto dinner recipes!