This golden milk recipe will be a staple in the fall and winter months! A family friendly drink, also called turmeric tea, is filled with antioxidants and is a wonderful anti-inflammatory as well.
The weather is starting to cool down, which means it's timeee for all the soups, chilis and warm drinks! I personally am really embracing the change of seasons this year. My kids are too – and they asked me almost immediately if we could start having golden milk again! Since this drink has such great anti-inflammatory benefits and is filled with antioxidants, I am so happy to make it for them. I love that they truly love this drink and see it as a dessert!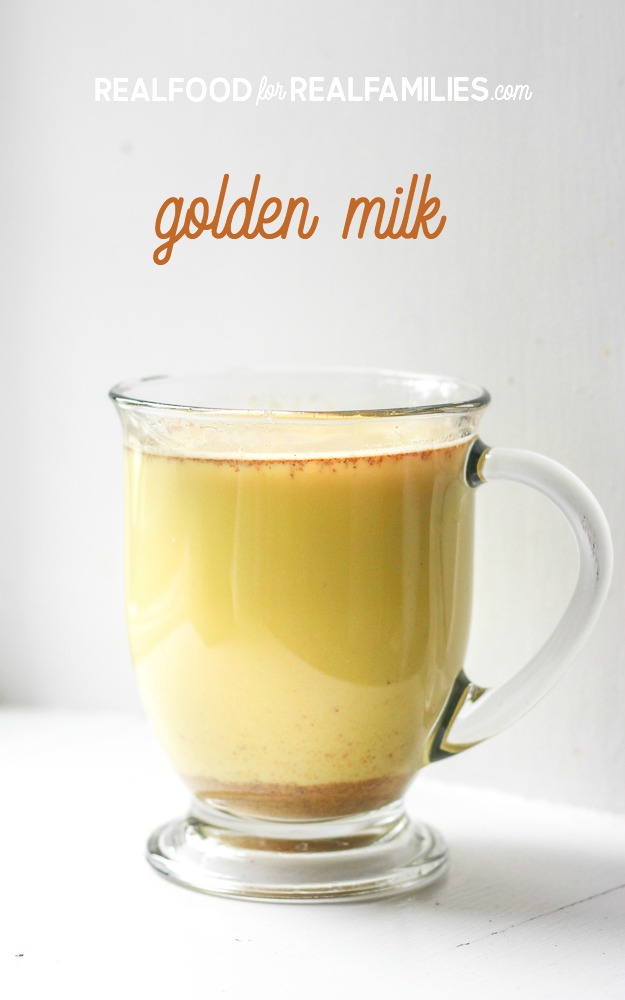 Why drink golden milk?
The spice that makes golden milk, well, golden, is called turmeric. Turmeric is said to have a wide variety of healing properties. I'll be honest – it is an acquired taste. Lots of people don't love it right away. But this drink is a great way to introduce your family to turmeric because it's filled with other warm spices (cinnamon & ginger) and has some sweetness from maple syrup as well.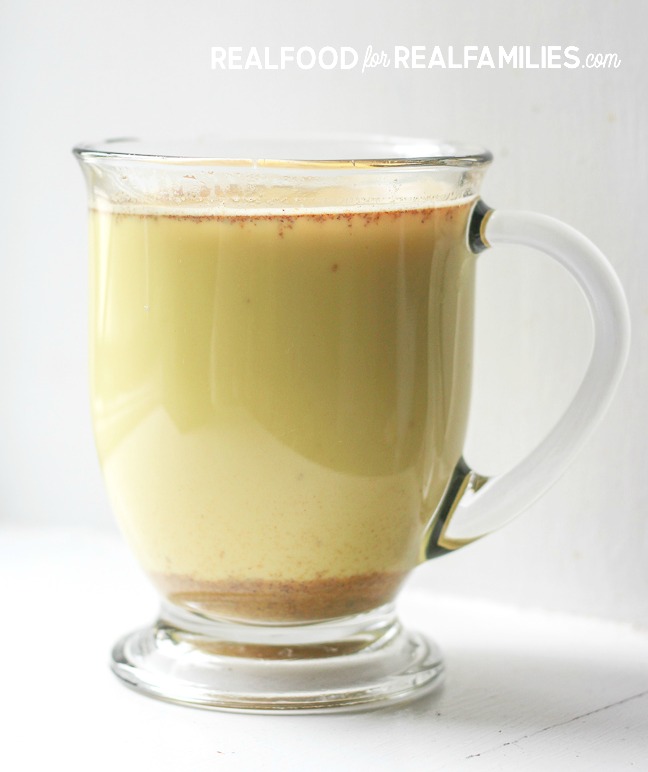 Health benefits of golden milk:
There are a WIDE variety of health benefits you can get by drinking golden milk (which is also called turmeric tea or turmeric latte). Some of them are:
it's rich in antioxidants
it reduces inflammation and joint pain
it can be a mood booster (always a win with tired mommas and kiddos!)
it can help to boost your immunity – certainly welcome with all of the preschool germs coming into our house!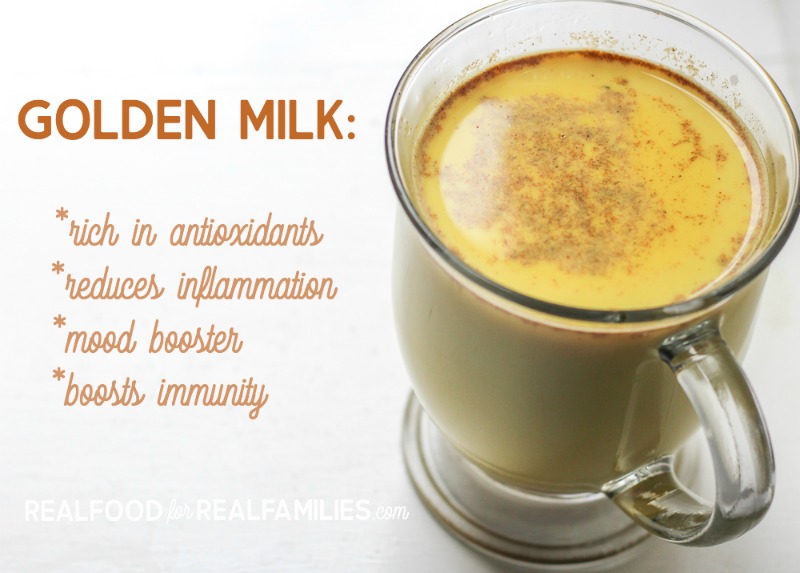 This recipe has a kind of chai feel to it, and it's just such a good drink for the cooler weather we're about to have! Curl up with your kiddos and a mug of this turmeric tea and enjoy!
Note: turmeric is bright yellow and WILL stain! When my kids were younger, I had them take off their shirt to drink their golden milk (they of course thought this was great).
BUT it will also stain your teeth! I recommend drinking it with a straw and then if you're able to, brushing your teeth after you drink it. Especially if you're drinking it often like we are!
(another note: adding the pinch of black pepper is important! You barely taste it and it helps your body absorb the turmeric)
Don't forget to pin this recipe to share with others and save for later!
Golden milk
Ingredients
3

cups

milk

you can use unsweetened almond milk too

3

TBSP

maple syrup

or sweetener of your choice

1.5

tsp

ground turmeric

1

tsp

vanilla extract

1

tsp

cinnamon

1/2

tsp

ground ginger

1

pinch

black pepper
Instructions
Combine all ingredients in a small saucepan, and heat over medium-high heat (don't boil)

Serve immediately - don't forget to drink with a straw!

Can be chilled and reheated, or you could even drink it iced. Discard after three days in the refrigerator.
If you haven't read my ebook yet – it's FREE for my e-mail subscribers! You can sign up here to get recipes straight to your inbox every week, as well as great ideas for getting your family to be healthier: