The best meals to bring to new moms – ideas that are comforting, nourishing, and filled with real food!
Since we've had three babies in the past 5 years, the memories of meals being brought to our home are very fresh. Let me tell you – it does NOT matter what is in your hand when you come to the door of a new momma. She is just so grateful to see you and to be loved on in such a special way. I was always so humbled by people's kindness and generosity when I opened my door – frazzled and sleep deprived. And hungry. When you bring food to a new mom, you're basically an angel knocking at their door.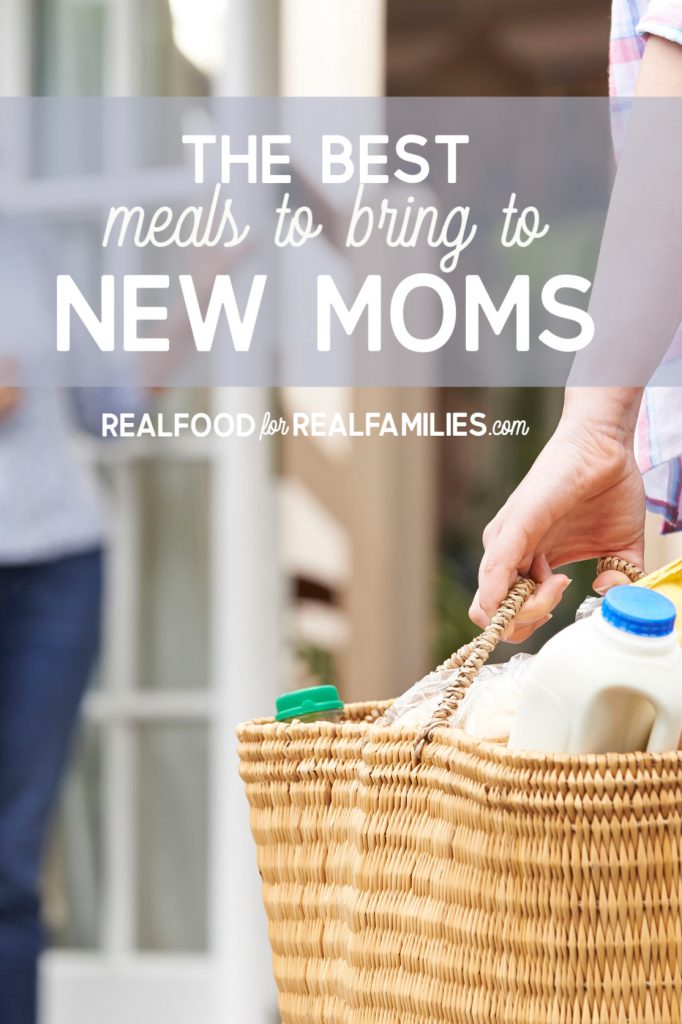 I love getting creative with new food ideas for moms because I vividly remember some really creative meals we received. It's fun to find ways to make someone's day!
I recently put out a call for suggestions on BOTH of my Instagram accounts and I got so. many. great. ideas! I can't wait to share them with you!
Let's address this first…
First – let's talk about something here. I got so many messages from people who said that their favorite food to bring was…
lasagna
Now, I will be the first person to tell you that I LOVE LASAGNA. It's time intensive to make (so thank you so much!!), easy to re-heat, and leaves lots of leftovers. I truly love lasagna.
But a lot of other people messaged me saying…
"Anything BUT lasagna! That was all we got when my baby was born!"
See the problem here? Lasagna is not the problem! But it seems everyone loves to bring it – which makes for maybe 2 weeks full of lasagna. No bueno.
So I hope this post will help you get out of the lasagna rut and help you think of some other meals you could bring to help take care of a new momma!
Things to consider first:
A few considerations I try to remember:
I try to avoid foods that have a lot of onions, garlic, beans or broccoli in them. If the mom is nursing, then those foods could give the brand new baby gas (those were the main culprits of all three of my baby's gas pains)
If they have little kids, try to keep them in mind as well. Bring something that the kids AND adults would be excited to eat, or something that's easily customized for people eating the meal.
Don't forget the REAL food. New mommas need lots of calories, but they don't all have to come from pasta and bread. Giving them a fresh salad or seasonal fruit is a GREAT way to love on a new mom.
BEST meal ideas for new moms:
OK without further ado, here's some of the amazing meal suggestions YOU guys gave:
Chicken caesar salad & bread

Make this a simple dinner with rotissarie chicken! I'm making this and giving some VERY easy homemade bread too (no bread maker needed – here's the 4 ingredient recipe)

Soups (would also go well with a good hunk of bread)

Chicken tortilla soup
Chicken noodle soup
Taco soup
Chicken tortellini soup
Italian wedding soup
Butternut bacon bisque

Breakfast for dinner!

It's a refreshing way to break up dinners
Bring a quiche, egg bake, pancakes, or waffles
Include some breakfast meat (sausage, ham, bacon)
And don't forget fresh fruit too! This would be a huge hit in a house with other kiddos too.

Meatloaf
Shepherd's Pie
Homemade pizza (bonus if you can bring a good salad with it!)
Stuffed Peppers
PF Chang's copycat chicken lettuce wraps
Small baked ham & veggies (leftover ham for breakfast or lunch!)
Beef Stroganoff
MYO taco night (this was a favorite of ours!)
Chicken pot pie
Stuffed shells
Baked ziti
Chicken fajitas
White chicken chili
Chicken teryaki rice casserole
Pesto chicken pasta
Pork barbeque with rolls
Whole 30 sloppy joes (they're on baked potatoes & are delicious!)
Burritos
Hawaiian ham & cheese sliders
Lemon orzo with roasted veggies & feta
Enchilada casserole (don't forget the guacamole!)

This quinoa enchilada bake looks great!

Carnitas
Sausage & peppers
Baked penne with chicken and sundried tomatoes
Other SUPER sweet things to do for the family:
Get them a gift card for a local restaurant that does take-out
Send them a Thrive box with snacks and easy to cook dinners
Make double of the dinner, and give them a portion to put in the freezer for another day
If the mom is nursing, bring some extra nursing snacks for her

Or bring lactation cookies – these are amazing!

Have a pizza delivered
Bring over cookies & milk (not for dinner) 😉
Please remember that ANYTHING you give a mom or new family is going to be SO appreciated. I hope this list is helpful – if you're already putting the time into it, then you'd be to happy to make them something they'd really love to eat!